Never Stop Laughing Marriage Night Out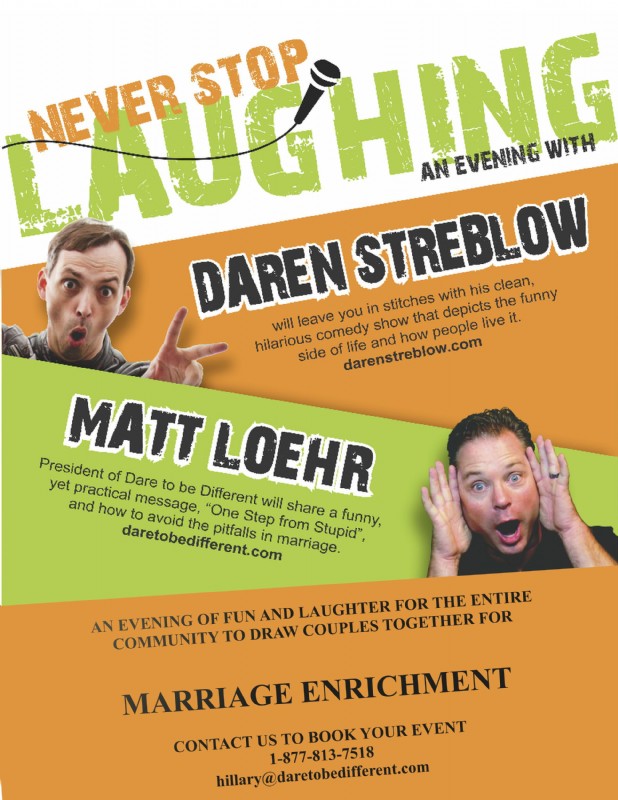 A FUN NIGHT OUT FOR COUPLES!
This dynamic duo is a must see! One offers a comedy act, while the other offers a compelling, yet humorous marriage message that most couples can relate with.
A fun date night where couples can laugh while being challenged and impacted. Couples will find real solutions to the pitfalls in marriage.
Daren Streblow is a world renown Christian comedian who has an amazing skill to connect with audiences.
Matt Loehr, a gifted speaker, author and Founder of Dare to be Different has been impacting marriages for years. You will find his message powerful, his story moving and his humor refreshing.
TIME: Friday or Saturday from 7:00 p.m. - 9:00 p.m.
CONTACT US for details, availablility and pricing.
Testimony: "This night was a wonderful date night for my wife and I. We loved the combination of comedy and a practical message on marriage. We highly recommend this for any church wanting to offer a fun night for couples. - Daniel
DOWNLOAD this promo video to promote your event.

Click Here
to select one of Matt's messages for your event